TRIZ Software: Professional Apps & Tools
On this page we would like to introduce you to some professional (paid) TRIZ software solutions. We have used most of them ourselves and can make statements about them.
These tools and apps have been developed specifically to support you in the processes of systematic innovation and inventive problem solving sustainably and efficiently. This compilation includes TRIZ software applications that we at TRIZ Consulting Group GmbH have used ourselves and can therefore recommend.
40IP App - The TRIZ software for your pocket
Our own app for the 40 inventive principles. All principles always ready to hand in your pocket – with over 400 illustrated, practical examples! The app also comes with two contradiction tables (Altshullersche, Matrix 2003).
With 40IP we provide you with the probably best known tool from the TRIZ teachings in a pocket size. Whether during conceptualization at the workplace, as a thought-provoking tool for brainstorming on the go, or as an idea multiplier in brainstorming – the principles for the famous "thinking outside the box" are always at hand. Leafing through catalogs or brochures, counting columns in a matrix printout or guessing about the meaning of a principle was yesterday. With 40IP, any content related to the 40 Innovation Principles is just a touch away!
40IP contains the 40 Inventive Principles, explained through over 400 illustrated examples, summarized as a compact reference for any situation. Intuitively, the TRIZ methods Technical or Physical Contradiction can be applied to increase the idea output with a variety of suggestions.
Features:
40 inventive principles with over 400 illustrated examples
Engineering contradiction according to Altschuller's matrix
Engineering contradiction according to Matrix 2003
Physical contradiction
Grouping of principles according to S. Fayer
Price: approx. 1 Euro
Producer: TRIZ Consulting Group GmbH
Face Innovation Network (Ideation TRIZ Software included)
The Face Innovation Network is a company created by the founder of Ideation International. Due to the proximity to Ideation, this network offers the Ideation Workbench software package and a distance learning course on how to use the software. A – as we think – super offer, which we therefore support with full conviction.
The mission of Face Innovation is to create a large, worldwide network of TRIZ enthusiasts, i.e. individuals who have a passion for product innovation and creative thinking. Furthermore, it is intended to attract people who have an interest in inventing on demand, or Invention-on-Demand. The members of the Face Innovation network work in an open innovation environment.
To encourage members to work openly with each other, Face Innovation offers its network members a comprehensive "Members Kit", a package of software, training materials and helpful articles on the topic. For this reason, this is also interesting for us as TRIZ Consulting Group GmbH: After all, the Ideation software has never been available in such a well-packaged bundle before.
Price: 1800,- Dollar
Producer: Face Innovation / Ideation International
PatentInspiration by AULIVE - Search made easy!
The TRIZ tool "
PatentInspiration"
can be used to search for
inventors
,
companies
and
technologies
. The free version of the software includes 12 different basic analyses, with which quite a lot can already be done. From the
basic version
on,
extensive analyses
can be applied to the selected patents
.
With the patent search software of AULIVE one builds up a data pool to a technology, a manufacturer or for example an inventor. You then apply various analyses to this data pool. This distinguishes the software from other patent search engines. These usually focus on the patent attorney or engineer who is looking for an infringement of a patent. Here, however, the name says it all: the search is for inspiration from the patents. One uses the patent databases as a BigData pool, which one taps to get ideas for one's own problems.
Thus, this software fits very well with TRIZ methods such as effect databases, function-oriented search, reverse function-oriented search or S-curve analysis. Since the founder also has a TRIZ background, other methods such as ideality or the system operator are also supported with special analyses.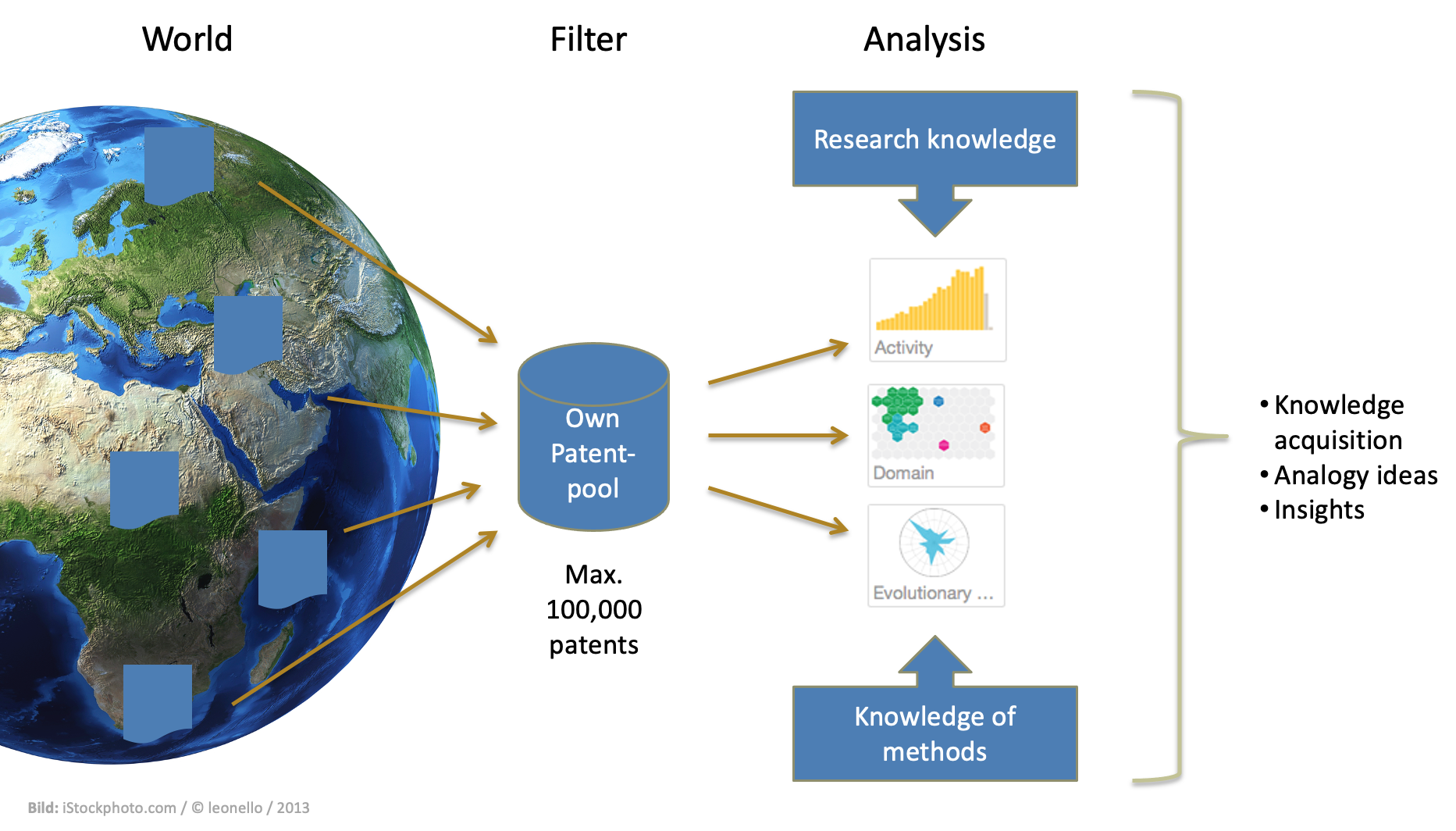 In the picture the principle function of the software is explained. From the database of all patents, a patent pool is created for a topic that is of interest. The various analysis options of the software are then applied to this pool. These processed data are then to be interpreted with the help of the search and method knowledge. This leads to the fact that one can acquire knowledge, develop analogy ideas and win new realizations in short time.
More information on the topic
This video shows Darrell Mann giving a talk introducing the software:

A new interface was introduced at the beginning of 2017:
There are now several videos on Vimeo that explain the software. Of the videos that are posted there, I can recommend the following.
A general promotional video that gives a brief insight into what PatentInspiration is supposed to achieve:
PatentInspiration from PatentInspiration on Vimeo.
And here are four videos that look at individual analyses of PatentInspiration: